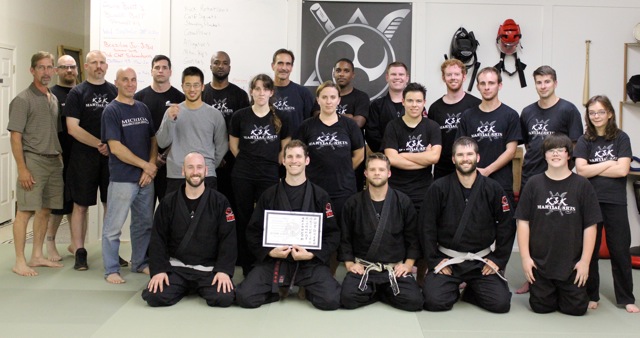 On September 24th our very own Guro Brett Allen Eckhart earned his Black Belt (SENIOR: Level-1) in our Kai-Shin Jeet Kune Do program.
Lots of people showed up in support of his promotion and beautiful demonstration of the art.  Guro Brett had a chance to not only share the art, but also share some of the guidance and wisdom he has learned through the years with some of the newer students in attendance.
Over the course of his almost 3-hour testing & promotion, Guro Brett displayed all five areas of the curriculum; Striking, Clinching, Trapping, Manipulation, and Grappling.  He skillfully demonstrated techniques from the arts of Muay Thai, Jun Fan, Panantukan, Wing Chun, Silat, Brazilian Jiu-Jitsu, Greco Roman Wrestling and more.  It was a real treat for all who were watching.
We are all very proud of Guro Brett, and look forward to watching him continually grow in the martial arts, as well as help develop those he trains with here a KSK Martial Arts.