Here's a great look at some of the awesome stuff you can learn in our Full JKD Curriculum!

(Purchase This DVD Now!)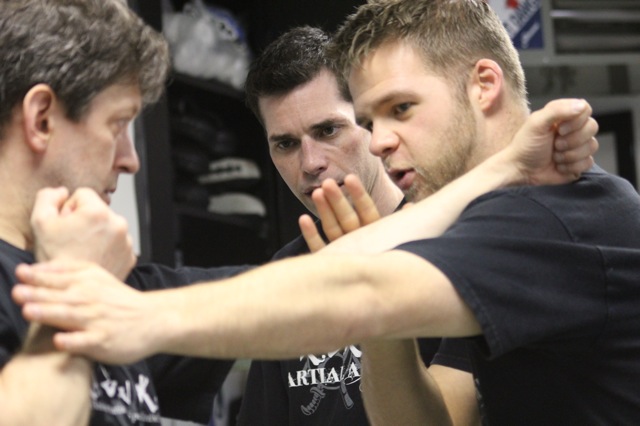 Are you ready to do it ALL!? Fun, Fitness, and most importantly, Functional martial arts!  Whether you want real self-defense, a healthier lifestyle, or just to meet fun people in a positive & supportive environment, we can help you meet your goals.  
Think of this path as a College Degree, rather than just getting a passing grade in a class.  Our full JKD curriculum effectively cross-trains the concepts & techniques of seven major martial arts.  It is the source of the material taught in our Stand-Up & Grappling classes, and therefore is studied by attending both of them.



Our full JKD curriculum teaches all five areas of empty-hand self defense:


1. Striking
2. Clinching 


3. Hand Trapping


4. Manipulation
5. Grappling
At KSK you will study these area individually and combine them together.  In order to help you progress more quickly we have a very comprehensive and organized curriculum, providing you with a solid foundation.
Our full JKD curriculum utilizes seven major branches of the martial arts, to form its core fundamentals:


1. Muay Thai
2. Panantukan


3. Jun Fan Gung Fu




4. Wing Chun




5. Maphilindo Silat




6. Submission Wrestling




7. Brazilian Jiu-Jitsu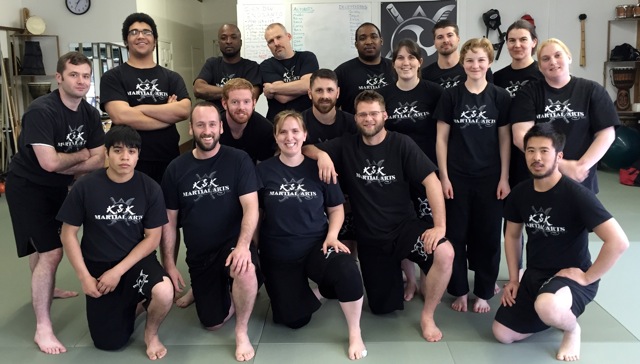 Because you will be exposed to a wide range of martial arts, you can capitalize on what you are good at, and develop that which you are not.  This type of training allows people of many different body types and ages to study with us.
Our goal is NOT to have all of our students look the same, it is for all of our students to develop according to their own body type and discover how to make the principles behind the techniques work for them as an individual.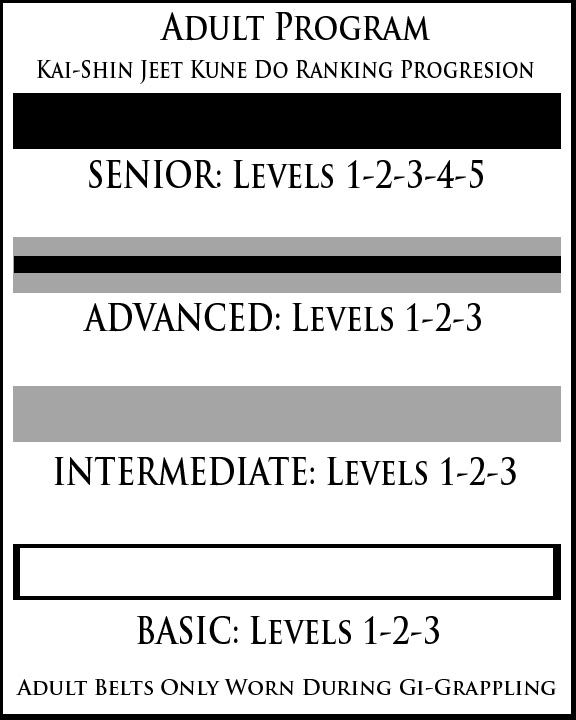 The Full JKD Curriculum (Kai-Shin Jeet Kune Do) features its own separate ranking system to reflect your study of the entire the curriculum, not just the Stand-Up Arts or Grappling Arts.
Rank/Belt Progression:
1. BASIC: Levels 1-2-3 (White Belt)
2. INTERMEDIATE: Levels 1-2-3 (Grey Belt)
3. ADVANCED: Levels 1-2-3 (Grey/Black Belt)
4. SENIOR: Levels 1-2-3-4-5 (Black Belt)
As a Bonus, students who study the full JKD curriculum (Kai-Shin Jeet Kune Do) automatically earn rank in Brazilian Jiu-Jitsu as well!
3145 S. Pennsylvania Ave. Lansing, MI. 48910
Phone: 517-348-2507 / Email: KskMartialArts@gmail.com